Youth Business Program 
This program is designed to give youth E2: Exposure and Experience in their desired careers.  The program will focus on the youth's career entrepreneurship interests.  The youth will have the opportunity to team up with professionals that currently or formerly worked in the field of the youth's desired career path.  These professionals will serve as mentors to the youth providing guidance and assistance.  The youth will learn the foundation of starting a business and/or selecting a career.  This program will target 30 male and female youth in between the ages of 15-24.
Girlpreneur
The Girlpreneur program is birth from the Zoe's Dolls mission and vision. Girlpreneur is a pilot program that Zoe's Dolls will be debuting in January 2016. The program will accept 15 girls between the ages of 8-13 that have an interest in owning their own business. Girlpreneur will work with these girls for six months, using a kid based business curriculum designed to give these girls the foundation to starting their own business. During the program girls will learn how to formulate their business idea, develop a business plan, incorporate their business and design marketing plans. The girls will also be paired with business owners, whom will serve as mentors. At the end of the program, each girl will have incorporated and started their business. Each girl will also receive $500 towards the development of her business.
Loving The Skin I'm In Creative Expression Contest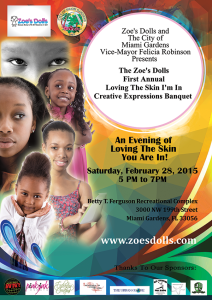 Zoe's Dolls and What Next Global believes that the image of brown girls is important and that their image should be celebrated and herald. It is that belief that led to the creation of Zoe's Dolls First Annual Loving The Skin I'm In Creative Expression Contest!
We want to know why being a brown girl is important to you and why you love the skin you are in. Here is your opportunity to have your voice heard! Let the world know that your image matters and that your image is beautiful!
Girls between the ages of 6 and 18 years of age, may submit in either the written or short film category. All submissions must be received by February 17, 2016, by 11:59 PM. The first place winner will receive a $100 cash award, second place will receive a $75 cash award and the third place winner will receive a $50 cash award. Winners will be notified by February 24th and will be honored at the formal banquet on February 27, 2016.
International Missions
In addition to domestic missions, What Next Global has vested international missions as well. Building and developing the capacity of youth extends beyond the catalyst of the US. What Next Global has mirrored its US based programs and duplicated them in Chipata, Zambia as well.
In Zambia some 19% of primary school-age children do not attend school; this number jumps to an appalling 70% for secondary school. Chipata, Zambia has a population of 503,000 people, with 60% consisting of youth. In 2005, a group of Chipata youth was surveyed on future goals; and the results showed that 54% of the youth never thought about their future goals, or knew how to go about attaining them. (What would become of a youth with no dreams or hope for the future?)
What Next Global Youth in Zambia Open a Second Hand Clothing Store
This store is much more than a simple structure housing used clothes hailing from across the ocean. This store will serve as a catalyst of economic stimulation to a rural community stricken with extreme poverty and ravished by disease. The store will afford local youth who participate in WNG's programs the opportunity to gain valuable experience in running and operating a business.